Header image: Pawel Czerwinski / Unsplash.com
In the patent application process, the so-called "third party observation system" allows third parties to file observations that are considered to be pertinent information in relation to the patentability of the invention in question.
Our experts Jakob Schwalbe Lohmann and Peter Sørensen have analyzed the "Effectiveness of Third Party Observations at the EPO and the Danish Patent and Trademark Office".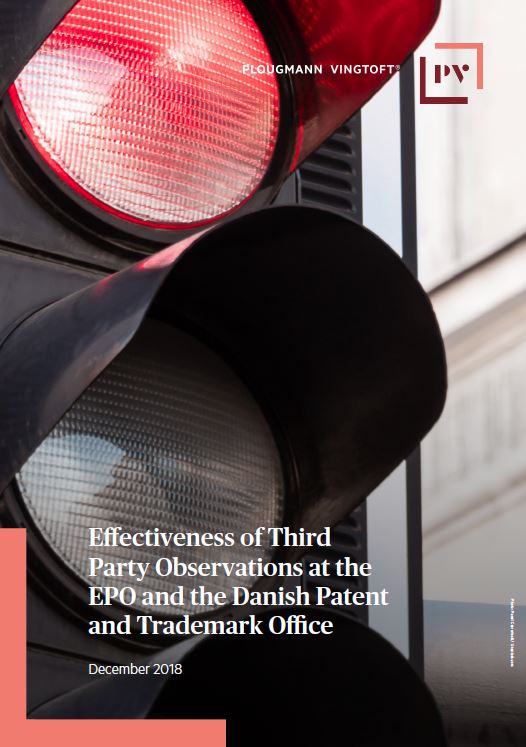 Excerpt:
"Currently, EPO provides very little statistical information in relation to the TPO system. However, statistics show that the number of TPOs filed in 2012 roughly doubled the number of observations filed in 2006, and in the biotech field, the number of TPOs has gone up threefold. Further, the biotech group had almost 40% of all observations (epi information, March 2013, ISSN 1434-8853).
Though numbers indicate an increased focus on TPOs, they provide no information on whether TPOs are in fact an efficient tool for a third party, nor do they tell us whether the Examining Division seriously considers the TPOs. But, it is noted that since 2011 EPO has changed its practice to ensure that examining and opposition divisions comment explicitly on the relevance of third party observations (Official Journal EPO, 7/2011).
To further elucidate the efficiency of TPOs at the EPO, we have examined the outcome of 40 cases in which TPOs were filed. We further examined whether it is efficient to file TPOs late in the prosecution phase (after submission of an intention to grant by the EPO).
In addition, a similar study was conducted on a number of recent cases from the period 2007-2016 where a TPO was filed during the prosecution with the Danish Patent Office (PVS).
Results at EPO
After identifying 40 randomly selected EP patent applications available in our case management system, in which at least one TPO had been filed, the cases were divided into three categories:
I. Applications where the patent application was abandoned after filing the TPO.
II. Applications where the patent claims were amended after filing the TPO.
III. Applications where a patent was granted with no amendments after filing the TPO.
It was further analyzed, at which stage in the prosecution history, the first TPO was filed."
---
Click the button below to download the entire whitepaper: 
---
READ ALSO: