Header image: Rainer_Maiores / Pixabay.com
On May 28, 2018, the winners of the Danish Design Award 2018 will be revealed. The award celebrates Danish companies and designers for the impact their solutions and designs have on both the industry and on society as a whole. According to the people behind the Danish Design Award, the 2016 finalists and winners contributed to a value increment of nearly 47 million Danish kroner. Hence, for good reason, the award has become very desirable in record time.
The finalists for this year's design award have recently been published, and we are proud to announce that our client, Price Invena ApS, who we assist with IP counselling, are amongst the finalists in the category 'Better Work'. Their innovative device called ClampCut® seeks to improve the procedures in the maternity ward by making it safer and simpler to clamp and cut the umbilical cord of the newborn. Thus, it becomes safer for the mother and the baby, simpler for the midwife, and the partner will be able to perform the cut more easily, if desired. In other words: a small device that makes a big difference.
Read more about the nomination and the design award here.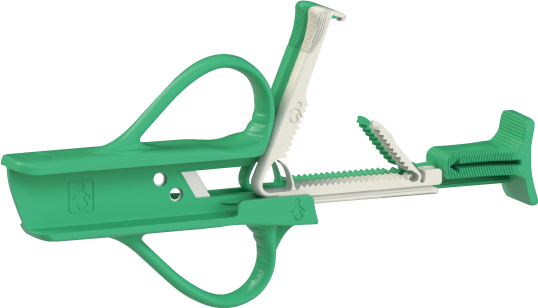 Photos: ©ClampCut®
We are always ready to help bring new and exciting ideas into the world, so if you have a new innovative design, a groundbreaking idea, or a trademark for your product, you are more than welcome to contact us and get further information on how we may help you.