Header photo: Chris Linde – www.LindeVisuals.dk / Venturecup.dk
The annual Venture Cup recently took place, and competing against hundreds of other interesting research projects Particle3D from the University of Southern Denmark (SDU) ended up becoming the overall winner. Plougmann Vingtoft has helped draft and file a patent application for the winning project – a project that makes it possible to 3D print artificial bone implants.
A few weeks ago the national startup competition, Venture Cup, was held in Copenhagen. The purpose of the Cup is to give young university students, with big entrepreneurial dreams, the opportunity to present their latest inventions in front of a professional jury composed of business figures, entrepreneurs, and investors.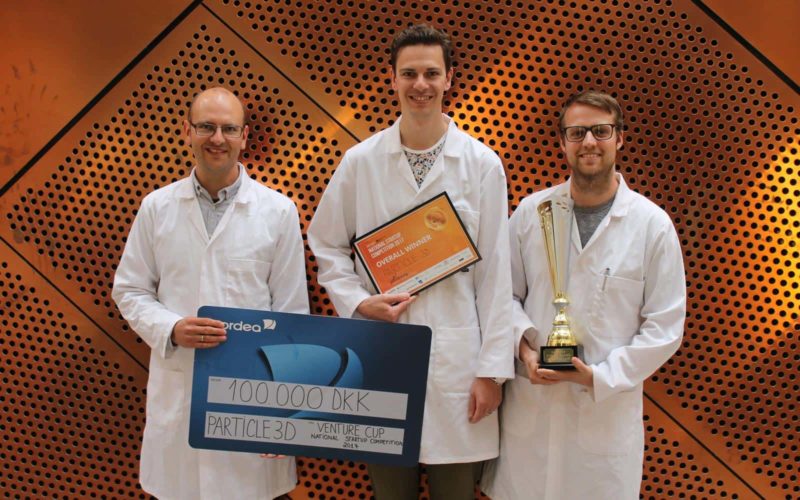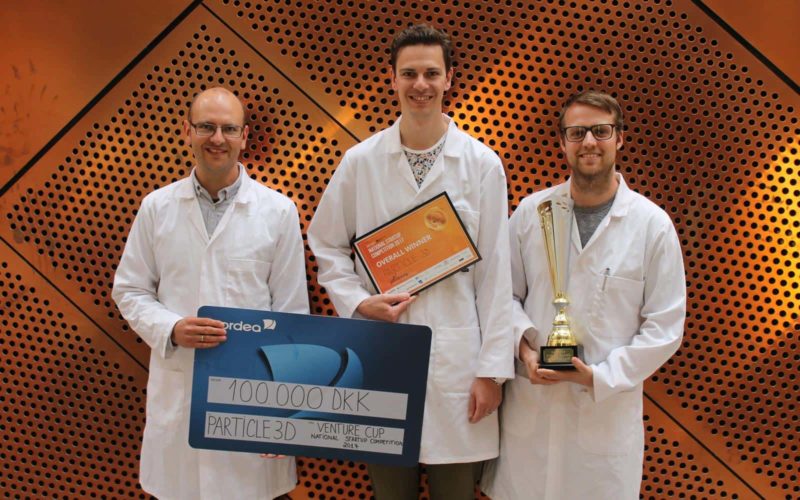 Foto: Particle3d.com
The overall winners in this years' competition are the two students, Casper Slots (middle) and Martin Bonde Jensen (right), and associate professor, Morten Østergaard Andersen (left) from the SDU Biotechnology department, who together have developed a technology that makes it possible to print artificial bones from organic material. Plougmann Vingtoft and SDU have together evaluated the project's patentability and commercial potential, which resulted in a patent application being filed to protect the invention.
Personalized implants
The Particle3D invention is innovative partly because of a new 3D printing technique, but also owing to a unique ceramics blend consisting of stem cells and calcium phosphate, which mimics the mineral that is endogenous to human bones. Especially the latter gives the Particle3D implants the advantage of being more easily accepted by the body's tissue when implanted. Furthermore, the new 3D printing technique enables the manufacturing of personalized implants fitted to the individual patient, instead of using standardized parts that seldom fits.
The invention is meant to help cancer and trauma patients, whose bones have been damaged during surgery or have been removed as part of their treatment. And in the future, the technology is also to be used in printing cartilage and tissue.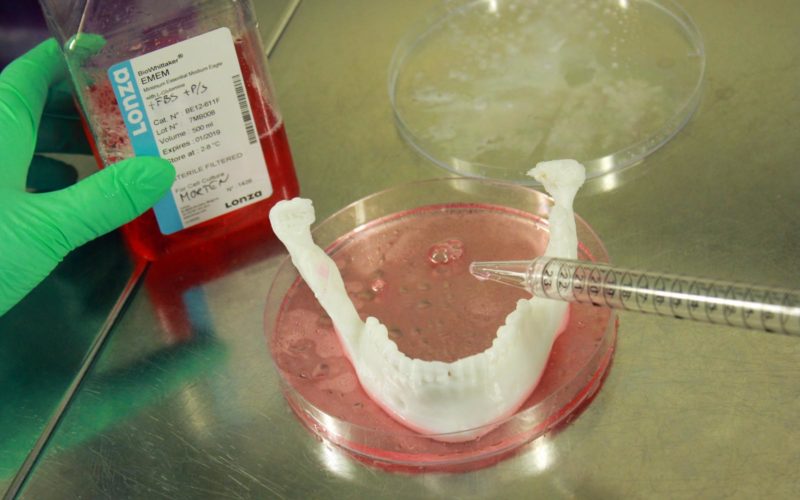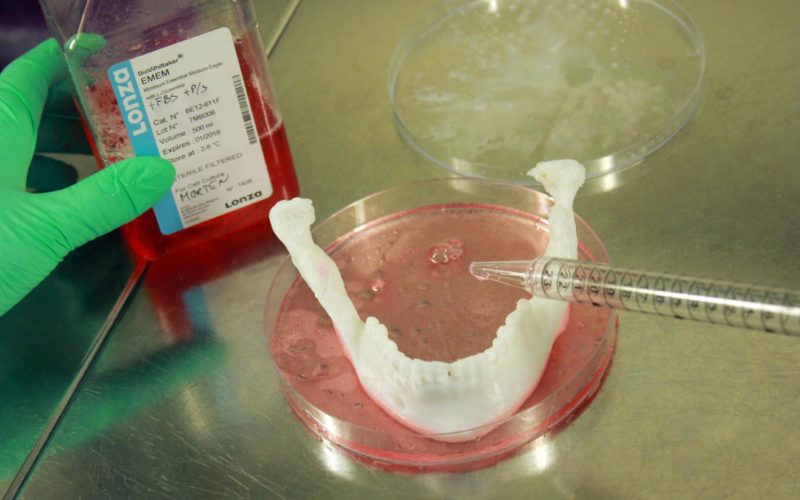 The Particle3D printing technique enables the manufacturing of personalized implants in ceramic material, which can help patients, who have damaged bones or have had bones surgically removed. Photo: Particle3d.com
The focus on patents contributes to further development
Venture Cup trophy and the prize of a 100,000 DKK have made it possible for Particle3D to continue working with its technology, but if the invention is really to take off and get a proper chance, then further funding is needed. This is why the research team from SDU is currently on the lookout for investors and funds, who are willing to back the project. One company that has shown an interest in partnering with Particle3D is IBM. The Group has offered to make both technology and research available in order to get the idea brought into being in the world, where it can make a difference for many people.
All things being equal, a protected technology will always appear more attractive to a potential investor than an unprotected technology.
In order to secure its position in the highly competitive and constantly developing market of 3D printing, it has been of paramount importance for Particle3D to protect its specific printing technique – a technique that is simple, cheap and can be used with several types of materials. The research group's strategy of patenting the technology represents a very important investment in the future right from the beginning, according to patent attorney, Jakob Lohmann from Plougmann Vingtoft: "All things being equal, a protected technology will always appear more attractive to a potential investor than an unprotected technology. This is why we always recommend clients to patent their inventions, before reaching out to external partners. Patent protection is of course only one of the things that investors look at, when evaluating a project. Other important factors are the market potential, the project team and how the product differentiates from other solutions (uniqueness). But there is no doubt that a strong patent may be the "open sesame" to further dialogue with investors." Jakob Lohmann consults both SDU and several of the country's other universities in protecting and commercializing their research projects.
IPR counselling enhances the chances for commercial success
If you have an exciting new product, like Particle3D, that you consider launching, then book an informal meeting with one of our experts and gain an insight into how you can achieve a unique market position and most effectively protect your business idea.