Headerbillede: Tedd/Pixabay.com
Right now, politicians, organisations and news media are gathering in Allinge on Bornholm, where one of Denmark's most popular events, the annual People's Political Festival (Folkemødet) takes place.
Again this year, people expect a new participant record with up to 100,000 visitors. When so many people gather and need to satisfy their hunger, it often results in a large amount of food waste. Therefore, organisers of the festival have a particular focus on sustainable solutions aimed at decreasing the amount of food waste and garbage.
For the occasion, a special Folkemøde Edition TreatBox is launched, which is the world's first biodegradable cardboard food waste box. It is developed by KLS PurePrint in collaboration with Unilever Food Solutions and Daka ReFood among others, and Plougmann Vingtoft has helped the company draft and file a patent application. The environmentally friendly food waste box has a unique design without harmful chemicals or heavy metals and it enables storing liquid and oily food without plastic boxes, something that has never been seen before.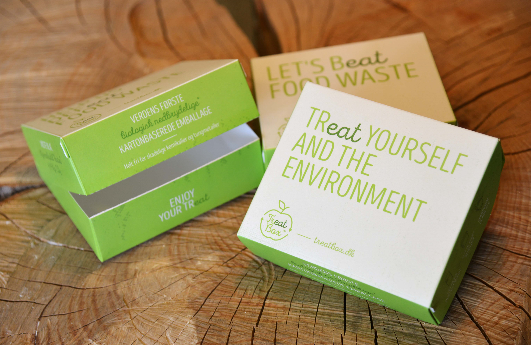 The TreatBox is distributed free of charge at the many eateries and food stalls at the festival, and the idea is that the visitors can bring their leftovers around to the many exciting debates.
According to plan, the innovative box will also be available in IKEA, where it will be part of a pilot project. If successful with the customers, it will be available in all IKEA stores in Scandinavia. In the long term, the TreatBox will spread to restaurants and cafes around Europe.