The Danish FemTech start-up UVISA is the latest recipient of Plougmann Vingtoft's annual start-up donation, IP Matters. The donation has helped mature the company and the early focus on intellectual property rights makes a big difference when talking with future investors.
Every year until 2030, Plougmann Vingtoft donates expert advice to Danish start-ups that contribute to one or more of the 17 Sustainable Development Goals (SDGs) of the UN. The donation is called IP Matters.
In 2021, the Danish FemTech start-up UVISA won and received expert advice worth DKK 50,000. Today, UVISA has submitted a patent application to protect the idea of treating vaginal infections using specific forms of UV light.
– When we applied for the IP Matters donation, we had no idea that we could win. But when it happened, we were very surprised and very happy, says Ella Smoraczewska Harris, who founded UVISA together with Gizem Simsek and Nicholas Jones and continues:
– It takes a long time and requires a lot of money to get a medical product on the market. Therefore, IP has been very important for us from the start. By protecting our idea, we can ensure that a potential competitor does not overtake us.
UVISA wants to solve a big taboo
Ella Smoraczewska Harris got the idea during a lecture at DTU. Since then, she has worked to patent the solution, which could potentially improve the treatment of vaginal diseases for a billion women.
Today, UV light is mostly used by dentists to remove bacteria in the oral cavity, but UVISA has created a solution the size of a tampon that will be able to cure vaginal diseases such as fungus and bacterial vaginosis. These are diseases that affect a third of all women several times during a lifetime and are often such a taboo that many self-medicate, which can lead to incorrect treatment.
– The treatment of these diseases has not developed in 60 years. Because who cares if women suffer from a small itch between their legs? Our product will solve a really big societal problem and create an alternative to antibiotics, says Ella Smoraczewska Harris.
Lack of funding for IP
The three UVISA founders have lived on a State education grant since they started, and they did not have the means to initiate a patenting process. Therefore, the IP Matters donation was absolutely essential for the company's further progress.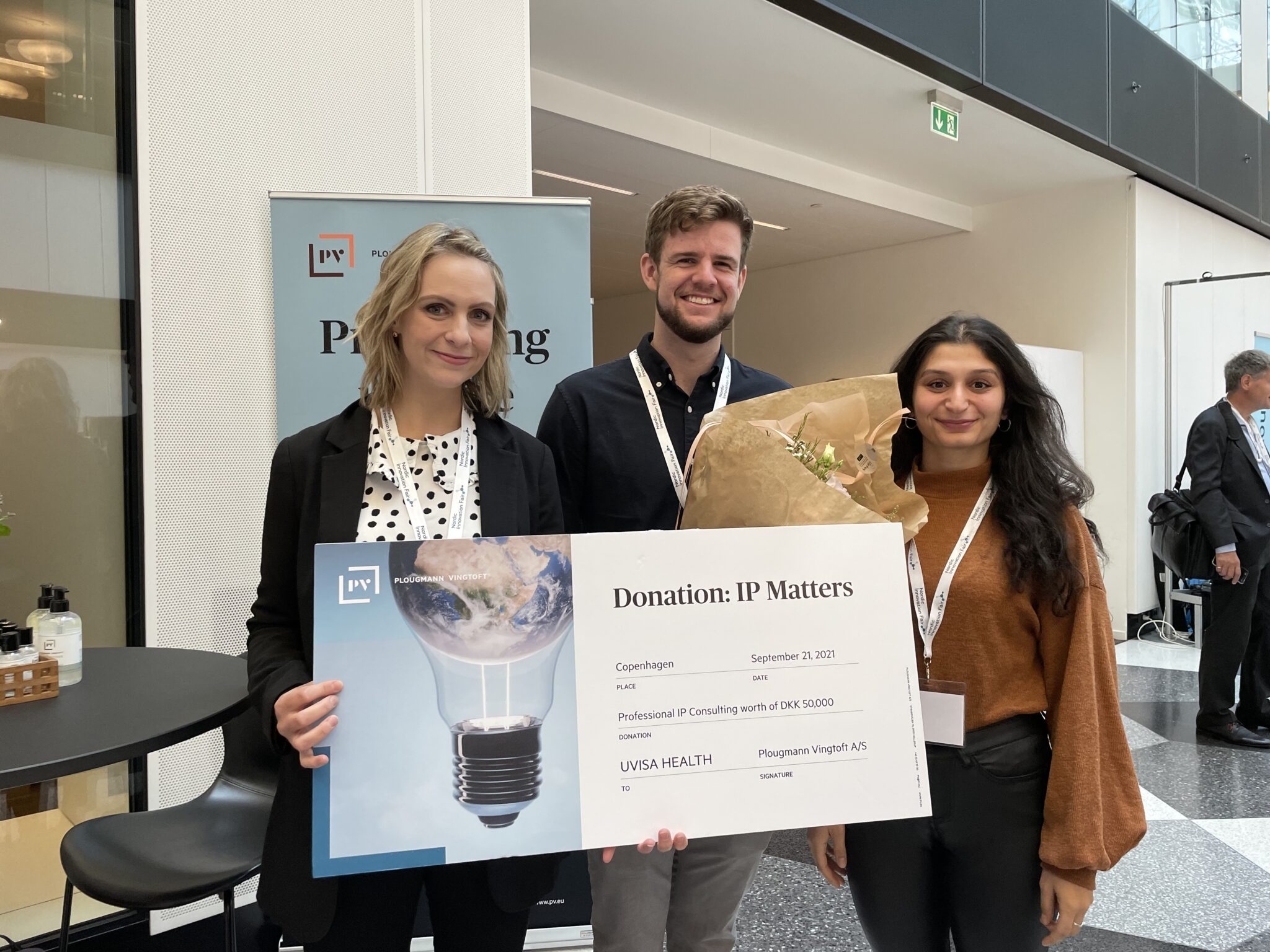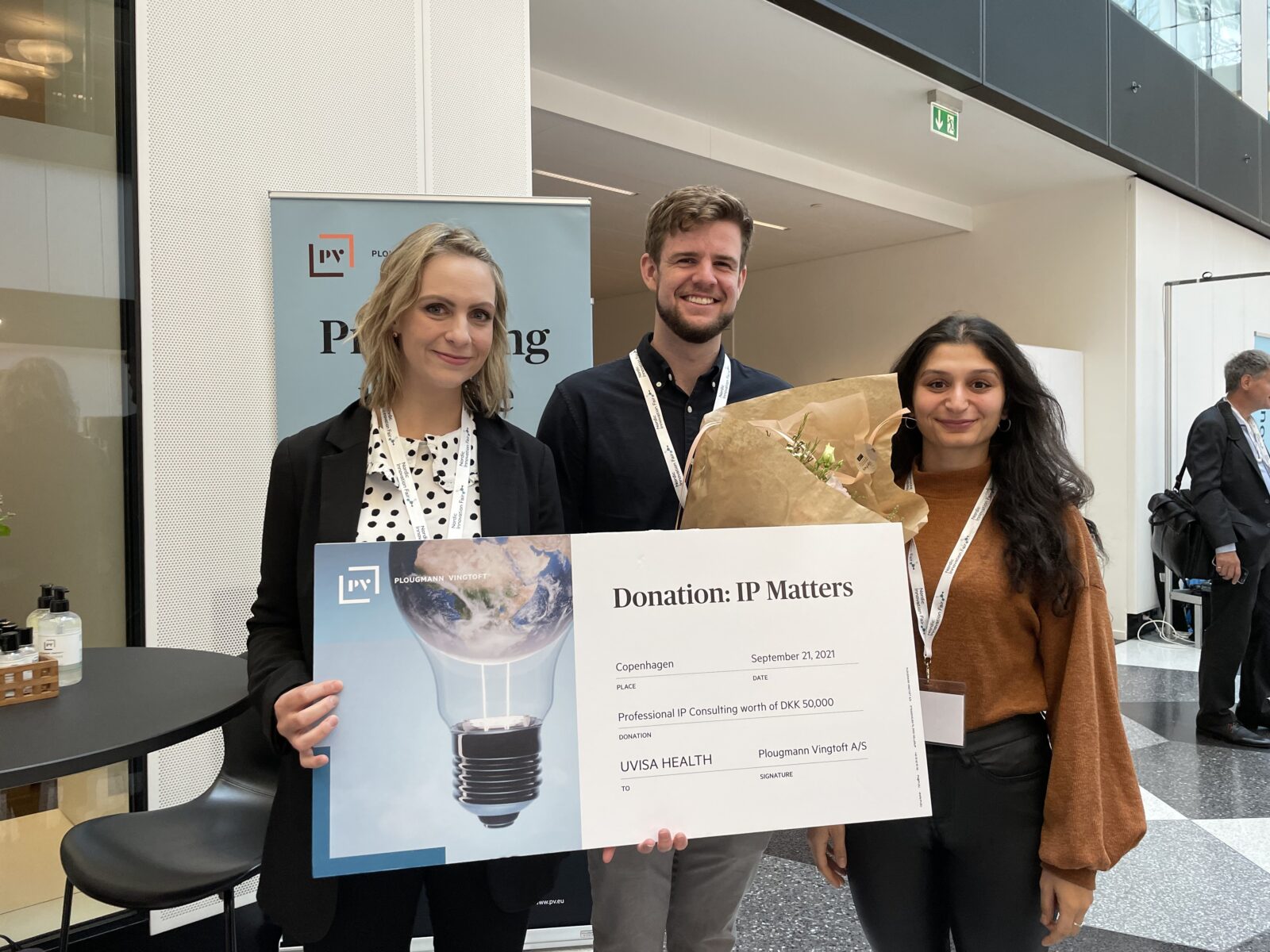 – The patent was one of our first priorities, but we could not afford the consultancy. So IP Matters has been really important to us. The expert advice we received covered the costs of the first patent application and working with Plougmann Vingtoft has been exceptional. They have been enormously helpful and available, and they are still cheering us on from the side-lines, says Ella Smoraczewska Harris and continues:
– The world of patents requires unique knowledge. It is important to structure the application correctly, use the right words and capture exactly what the patent should be. It was extremely important for us that we had trust in Plougmann Vingtoft and that they were in complete control of things so we could leave the work safely in their hands.
An incentive for investments
UVISA's patent application was submitted in February 2022, and if all goes according to plan, the company will have registered its first patent within three years of its founding. Today, it is clear to Ella Smoraczewska Harris that the early focus on intellectual property rights has become an incentive that UVISA can use when talking to potential investors.
– When we meet with investors today, we can safely say that we have complete control over our IP. It clearly makes an impression on the investors, and it creates an interest in us that we did not see before, she says.
This year, IP Matters is awarded for the fourth time, and Ella Smoraczewska Harris has the following advice for the companies who dream of being considered.
– If you have an idea that addresses an important social challenge and you want to protect it, IP Matters is an obvious option, she says.
Are you interested in participating in IP Matters 2022?