Robotto, which is a company working on artificial intelligence, has developed an algorithm that uses drones to identify wildfires and sends data back to the ground based response team. The technology offers infinite possibilities and can also benefit the environment. Therefore, Robotto is one of the four winners of the IP Matters 2022 donation.
Wildfires have become more and more frequent during recent years. In California, for example, where eight of the ten largest wildfires which have occurred throughout American history have taken place over the last five years.
The increasing number of wildfires is obvious in the global CO2 emission report. In 2021, the emissions from all the wildfires in the world corresponded to more than twice the amount of CO2 emitted by Germany. The Danish company, Robotto, aims to reduce CO2 emissions from wildfires. They have set the sustainable development goal #13, which is related to climate action, as a clear point of reference.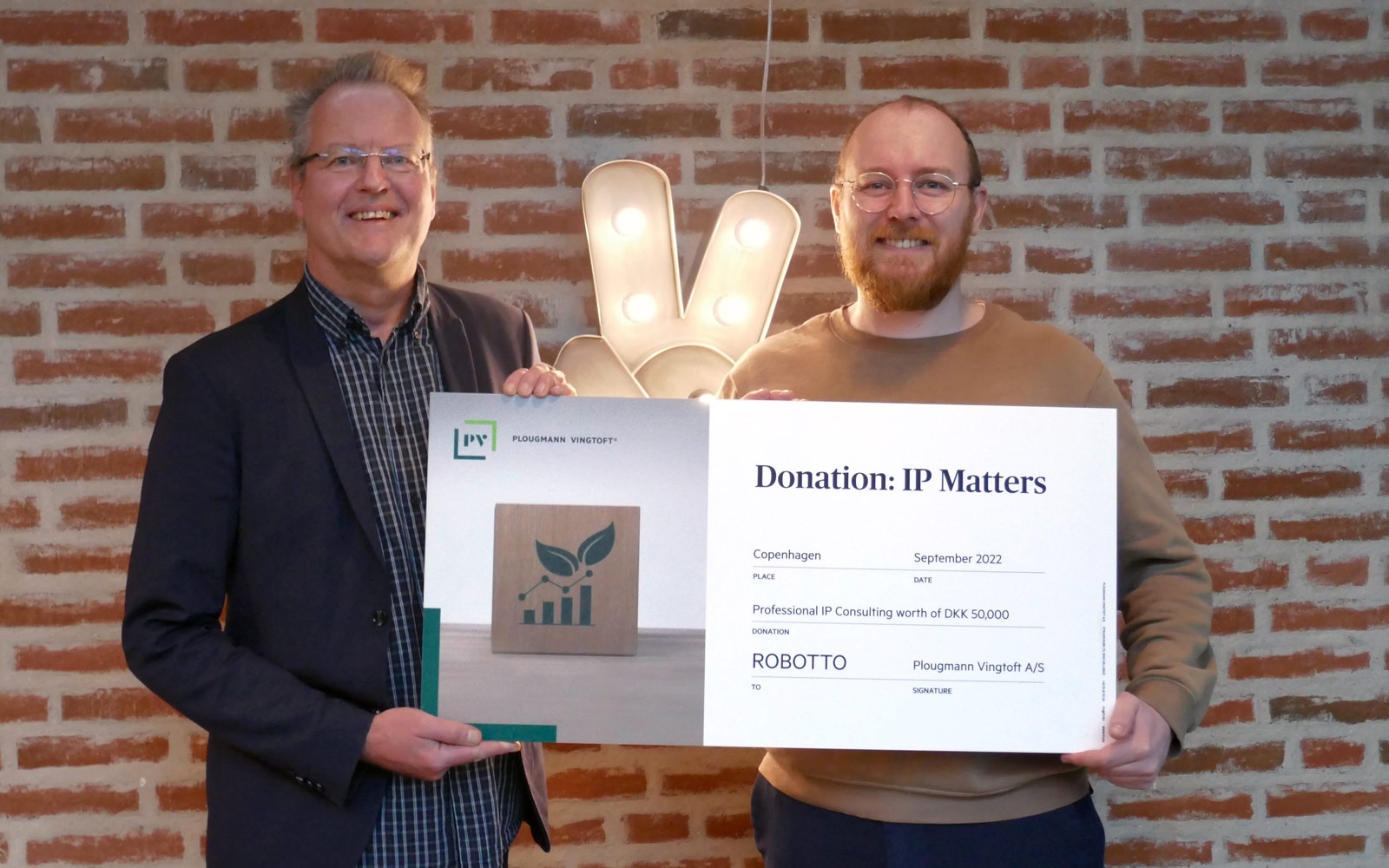 – The climate crisis has reached an extent, where we can not only talk about long-term goals. We must address it now, and not in ten or thirty years. Our technology can reduce the CO2 emissions from wildfires by up to 60 percent, which will have an enormous impact on the climate crisis, says Kenneth Richard Geipel, managing director and co-founder of Robotto.
Unique technology
Robotto's artificial intelligence can process data in real time via cameras on drones. This means that drones with Robotto's technology can autonomously search areas with wildfires. Thereby, the ground based response team can immediately get a picture of how the fire is developing and how to control it. The first results show that the technology reduces the number of working hours spent during a wildfire by 50-70 percent.
Worldwide, there are three companies working on the same technology as Robotto. The difference is, however, that Robotto produces software which is not restricted by other platforms or specific drones. This makes Robotto's solution more flexible than that of the competitors.
This also means that the technology can be used for many other things besides wildfires. Robotto has, for example, initiated a collaboration with the World Wild Life foundation concerning monitoring of elephants in Thailand and with the European Space Agency concerning monitoring of biomass silos at a Danish power plant.
– Regardless of the context where we use the technology, our algorithm is the same. It can be taught to recognize different things, says Kenneth Richard Geipel.
Patent will be used for growth
With the IP Matters donation, Plougmann Vingtoft offers Robotto consultancy worth 50,000 DKK. And Kenneth Richard Geipel already knows how they wish to spend the money.
– Registration of a patent would make a big difference for us. We would like to expand our activities, because we are dealing with an enormous problem, and it requires a lot of capital to solve this problem, but we have experienced that investors ask us about two things: turnover and IP, and at the moment we do not have any IP, he says and continues:
– We need help to take the next step so we can protect our technology. 50,000 DKK is a lot of money for us and it is positive, that the money is specifically targeted towards IP, which we have not been able to prioritize until now.
A future with drone airports
Robotto was founded by Kenneth Richard Geipel, Iuliu Novac, and Lucas de Paula, and they all hold a bachelor's degree in robot technology. And even though the company merely has five employees and has existed for less than four years, the team has big ambitions for the future.
– In five years, we will be an international company. By then, we will be taking the next step in our development, which I believe will be autonomous drone airports, which we can send to crisis areas all over the world. For example, wildfires or oil spills, says Kenneth Richard Geipel.
This year's IP Matters was awarded in the autumn, where four fortunate start-up companies were announced as winners and they each received a donation of 50,000 DKK for IP consultancy. Read more about IP Matters here.
Is your start-up company considering IP protection? We always offer a non-binding meeting of one hour with a consultant. Please contact one of our experts here.
ALSO READ