The Health-tech start-up GlyProVac has invented a method that could improve the effectiveness of vaccines worldwide. Therefore, the company received Plougmann Vingtoft's IP Matters donation 2022.
Vaccines have time and again proven their value in fighting life-threatening diseases. But vaccine development is an extremely expensive and long process, and thousands of vaccine candidates are discarded before the right vaccine can reach the market and save lives. However, what if discarded vaccine candidates just needed a small extra component to work?
This is exactly what the Danish company GlyProVac is working on. And it may very well end up having a major impact on the global vaccine development. That is why GlyProVac has just received Plougmann Vingtoft's IP Matters donation in the form of expert IP consulting worth DKK 50,000.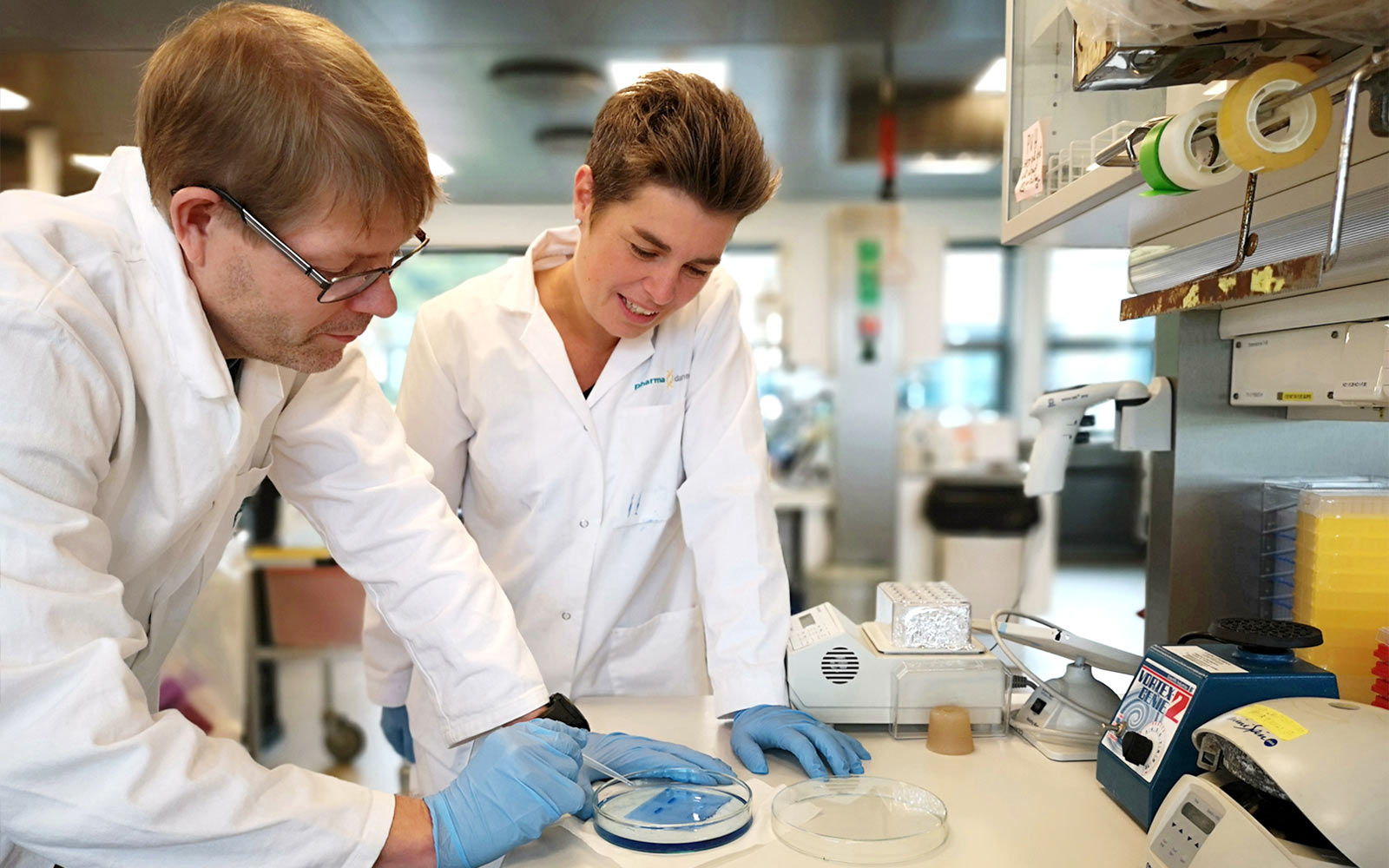 – We were really excited when we were told that we had won IP Matters, because IP is very costly. But it is an absolute necessity for us as a company. If we don't protect our IP, we ultimately have nothing to sell. And unfortunately, many investment funds would rather invest in technical development than the protection of ideas, says Ann Zahle Andersen, Ph.D. in biochemistry and applied mathematics and co-founder and COO at GlyProVac.
A technology under development
The technology behind GlyProVac is based on CEO Anders Boysen's pioneering research a decade ago. During his Ph.D. in microbiology, he found that disease-causing bacteria are far more complicated than that. There is a large number of tiny sugar molecules attached to the bacteria's proteins, and the vaccines must take these into account before they can be effective. And the current protein vaccines lack that.
– With our technology, we can take discarded vaccine candidates and add a layer of sugar so that they work differently, says Anders Boysen, CEO at GlyProVac.
Since 2013, Anders Boysen has together with Ann Zahle Andersen been working on making the new vaccine technology ready for commercialization. Most of the workhas taken place at the University of Southern Denmark, but in 2018 they licensed the technology and founded GlyProVac. Now they want to apply for a new patent based on what they have learned over the past four years.
– We have had to protect the basic IP very early in the process. Thus, the current patent is broad, but lacks certain facets. We are therefore looking forward to applying for a more focused patent on a more mature and product-oriented vaccine candidate, says Ann Zahle Andersen.
At Plougmann Vingtoft, European Patent Attorney Jakob Schwalbe Lohmann advises GlyProVac and helps strengthen their IP position. A long-term collaboration that will further prepare the company for future challenges.
– With a patent, a company is simply in a better position, both regarding competitors and the future development. This is why it is so important that companies in general, and start-ups in particular, consider intellectual property rights as part of the business strategy and base their decisions on this, says Jakob Schwalbe Lohmann, European Patent Attorney at Plougmann Vingtoft.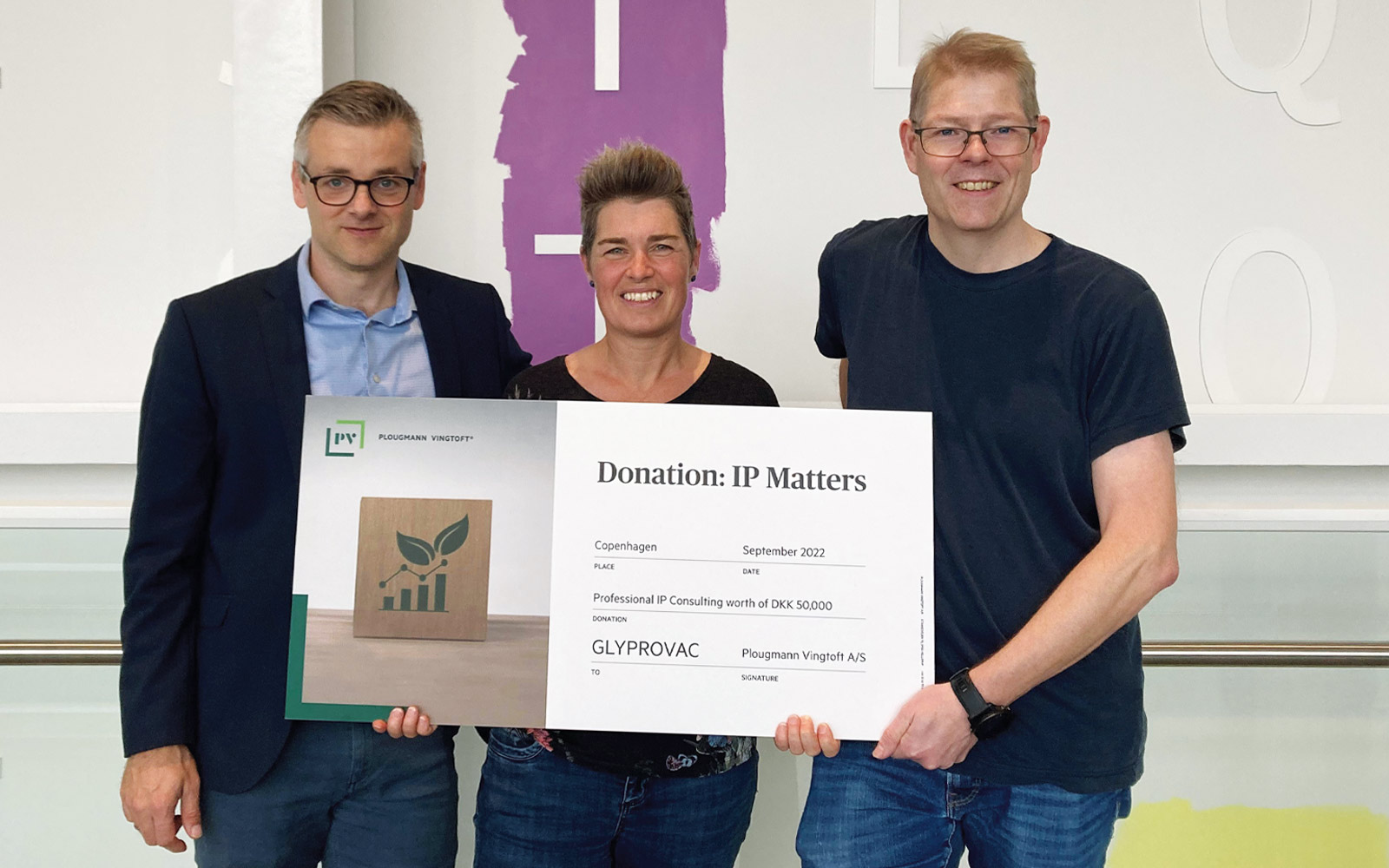 The Sustainable Development Goals
GlyProVac's technology can be used in conjunction with many different vaccines. Right now, GlyProVac is primarily working on a vaccine for urinary tract infections. The company thus supports the sustainable development goals #3, which is about health and well-being, and #5, which is about gender equality.
– Urinary tract infections are a great burden for women especially worldwide. But a significant number of men in risk groups also die from it, because the infection can enter the bloodstream. With our vaccine candidate, we can level the playing field for women and men, and ultimately we dream of saving people from dying from these diseases, says Ann Zahle Andersen.
GlyProVac is currently in the process of approaching large pharmaceutical companies to draw attention to their solution. At the time of writing this article, they are still looking for that first customer, but the five-person team has momentum and, with the IP Matters donation, they can now better protect their idea.
IP Matters was awarded in the autumn 2022, where four fortunate start-up companies each received a donation of 50,000 DKK for IP consultancy. Read more about IP Matters and the other winners.
Is your start-up company considering IP protection? We always offer a non-binding meeting of one hour with a consultant. Please contact one of our experts.
READ ALSO: