IAM Patent 1000 has now revealed its rankings for 2021. Once again, Plougmann Vingtoft ranks among the world's elite IP consultancies. Additionally, nine Plougmann Vingtoft patent attorneys are highlighted in this year's edition for their expertise.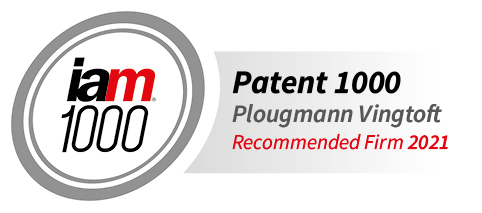 Every year come summer time, ranking magazines publish their lists of the world's best IP consultancies and IP consultants, and this year is no exception. As the latest in a series, IAM Patent 1000 just published its list for 2021.
IAM Patent 1000
Every year, the team at IAM undertakes an exhaustive qualitative research project to identify outstanding firms and individuals in the IP industry across multiple jurisdictions. The researchers gather intelligence about depth of knowledge, market presence as well as peer and client feedback, all of which culminate into annual rankings.
This year, Plougmann Vingtoft maintains its 'gold' ranking for prosecution and receives this glowing introduction from the IAM Patent 1000:
"A powerhouse on the Danish IP landscape, Plougmann Vingtoft has a lot to offer innovative companies in need of futureproofed patent protection. The award-winning consultancy firm leverages its in-house commercialisation and technology transfer team to ensure that each stage of the patent lifecycle receives the attention it deserves (…) It continuously educates its attorneys in best practices, and produces fantastic applications and a high-quality service."

IAM Patent 1000
Nine recommended individuals
In addition to securing a spot in the top firm rankings in Denmark, nine of Plougmann Vingtoft's practitioners are also highlighted in this year's magazine as 'recommended individuals'.
IAM lists:
Congrats to the recommended individuals.
See the full list of recommended IP consultancies in Denmark here and read more about the highlighted experts.
Contact Plougmann Vingtoft
Plougmann Vingtoft is a leading IP consultancy when it comes to strategic consulting, managing, protecting and commercialising intellectual property rights (IPR).
70 employees work out of the headquarters in Hellerup (Copenhagen) and four additional offices in Aarhus, Oslo, Munich and Madrid.
Click here to meet Plougmann Vingtoft's IP attorneys and paralegals and contact them directly, or fill out the form below with your enquiry.
Get in touch with our experts
Please avoid using this form for concerns about ongoing cases. Instead, contact your Plougmann Vingtoft
expert
directly.