Header image: Pixabay.com
Over time, large enterprises often accumulate vast and complex portfolios of patents and trademarks to protect rights and commercial interests. Such large IPR portfolios frequently present several challenges in relation to streamlining an overall strategy while maintaining the crucial overview.
To meet this challenge, we offer portfolio management and administration. Our skilled experts handle some or all of the client's patents and expand the portfolio by drafting and prosecuting new cases. Our services can be customized for each client and include freedom to operate analysis (FTO), patent mapping, IP administration, surveillance of competitors, oppositions and litigation and more.


No case is too complicated for us to handle. In addition to our own wide panel of experts, we collaborate with trusted local agencies worldwide to ensure that the business of our clients is in good hands no matter the preferred market.
In addition to our patent consulting, our highly qualified trademark team have years of experience in representing clients from all around the world in the fields of trademarks, designs, copyright and domain names. Our trademark team can assist you in the trademark journey from worldwide searches, applications, oppositions and registrations. Our team handles applications in both Denmark, Norway, the EU (CTM) and international registrations through the Madrid Protocol (WIPO).
Further, we offer in-house strategic consulting on commercialization, technology transfer, market analysis and technology driven business development. Consequently, we have vast experience with assisting our clients in bringing new, exciting products to market.
---
Read the case stories below, and learn more about how we help large enterprises
ULSTEIN: A threefold IP strategy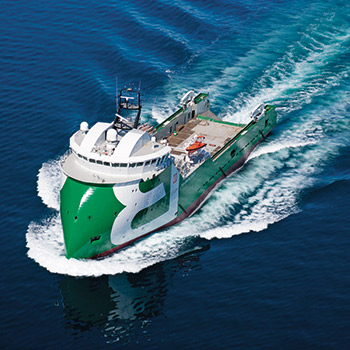 The X-BOW® by Ulstein Group is an award-winning ship's bow design that enables vessels to cut more smoothly through water in high seas compared to normal ships. The invention is protected by a threefold IPR strategy developed in collaboration with Plougmann Vingtoft.
ULSTEIN has achieved 100 sales of the X-BOW® hull line design.
KAMSTRUP: Patents helped innovative specialist grow
Plougmann Vingtoft have been a part of Kamstrup's growth adventure from the beginning, and with the help of our patent experts, Kamstrup's patent portfolio has grown steadily in time with the enterprise's success.
"Even when a company handles part of the patenting process in-house, the vast resources required to purchase …" explains Michael Friis Sørensen, Senior Patent Attorney at Plougmann Vingtoft
NOVOZYMES: A global product and trademark portfolio
Companies with a global presence often have many and varied products to fit the conditions in local markets. Industrial biotech giant Novozymes A/S experiences this first hand as the company's use of enzymes for laundry detergent differs from continent to continet. Plougmann Vingtoft handles the company's trademark portfolios, where the diversity of the products really stands out.